Want to capitalize on every drop of traffic that is coming to your website? That's where the Power Lander strategy comes in.
What Is A "Power Lander"?
Typical landing pages have a one, clear focus, with one call to action, to get the user to take one next action with you. A Power Lander is a type of landing page that's niche specific and set up for conversion. Meaning, it's laser focused.
Send Traffic From Anywhere
It doesn't matter how people come to your Power Lander.
Whether you're a keynote speaker
Doing a podcast interview
Running a paid traffic campaign like Facebook ads or Google ads
Linking from a guest blog or social media post
Regardless of what you're doing, you can have peace of mind knowing that you can send them to your power lander. You can see us even use this strategy for ourselves on our own lead magnet featuring
3 ways independent financial advisors stand out.
Let's look at an example.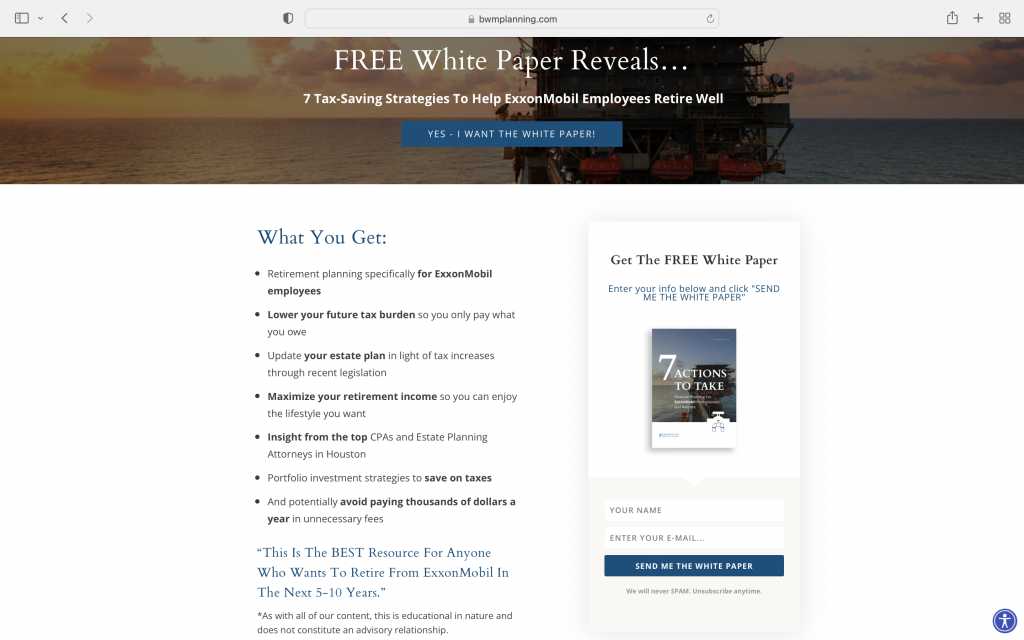 Example: Brownlee Wealth Management
Brownlee Wealth Management
has a couple of lead magnets created specifically to serve their niche. We helped Brownlee Wealth Management make a Power Lander for a white paper for people looking to retire from the oil and gas industry. Take a look at the screenshot above. Notice it has all the elements mentioned earlier:
Headline and call to action at the top
Benefit bullets on the left
Email opt-in box with 3D mockup in the right
A quote summary at the bottom describing how the white paper will help targeted clients
This is a niche specific, high value, highly targeted lead magnet. Which makes it a Power Lander 🙂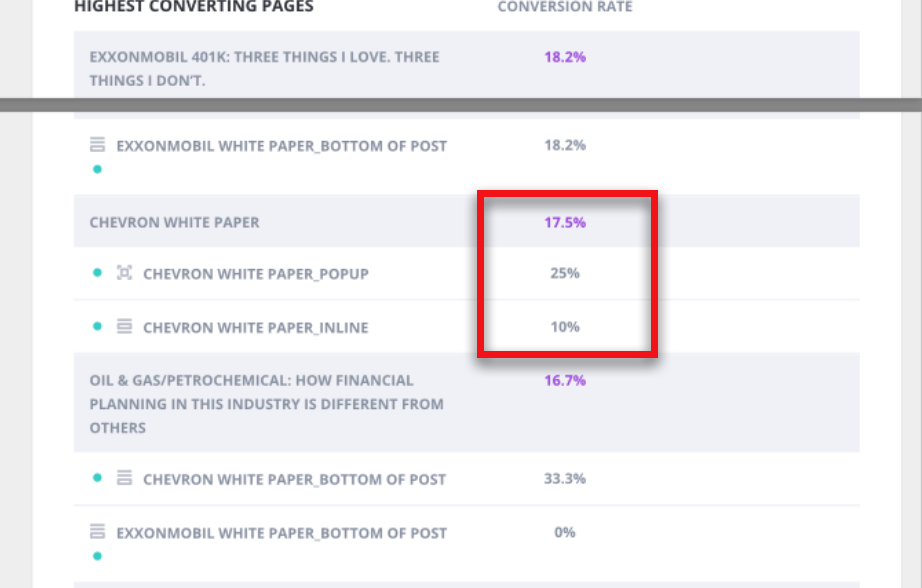 Power Lander Conversion Rates
Average conversion rate for the finance nice are typically around seven percent. We've created Power Landers that have conversion rates as high as 79.1%. The image above shows conversion rates for the Power Lander we created for Brownlee Wealth Management, with a conversion rate of 17.5%, more than double the industry average. Now, there is no guarantee that your Power Lander will be equally effective, but this does go to show what happens when you have a specific, high impact resource created with your ideal client in mind.