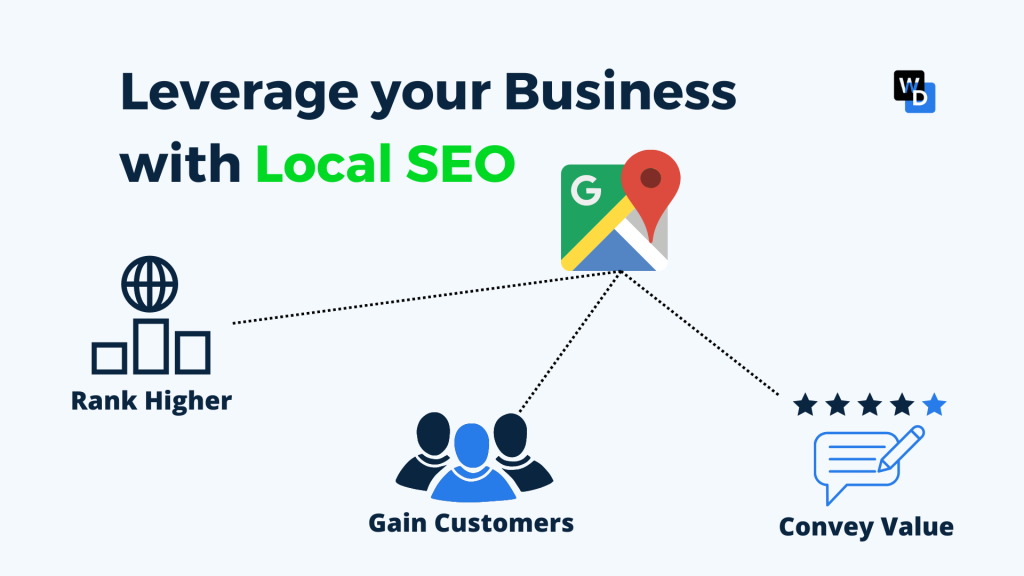 If you are a financial advisor looking to gain more leads without paying for ads, setting up local SEO for your business could be just the solution for you. Local SEO allows you to be found by prospects looking for your services in your area. In this article, we will explain how this works for a financial advisory firm, using some of our clients as examples.
Benefits of Local SEO
As you can see, local searches are prevalent on google. Here are four ways local SEO can be beneficial for financial advisors:
Appearing Higher in Google Search Results and Google Maps
If someone is looking for your services in your area and your website displays as one of the local search results, you will likely get a phone call or a walk-in that day!
Showing Up in Local Directories
Local directories pull their information from local search results, hence when your business shows up in search results, it has a higher chance at directories including it, which helps gain more exposure and outlinks. Outlinks direct links toward your website; leveraging your online presence by helping you rank higher on Google.
Outrank Larger Firms Like Merrill Lynch
Larger firms often have a more prolonged online presence and a team of marketing experts behind their brand, who work on getting these firms in the forefront every day. This advantage, of course, helps them rank higher by having more content, more outlinks, and more social proof. Showing up on Google Maps allows you to outrank those big firms with more specific keywords that target your location.
Less Competition
This might come as no surprise, but the more specific the search, the fewer results show up, which means less competition and a higher chance to be seen by those seeking out your services.
How To Set Up Local SEO: Step-By-Step Process
Setting up local SEO for your business is pretty simple. We've added a few extra steps to get the best results by driving traffic and converting quality leads for your business.
1. Create your Google My Business account
In order for Google Maps to display your business, you need to have a business account with Google. It is not hard to set up but Google might take a couple of days to approve your account. Here is a simple How-to on creating your Google My Business Account guide.
2. Provide consistent information
Google and other search engines identify the content and context of a website by having so-called "web-crawlers" move through the web. These crawlers store information they find in databases, which then tell Google what websites are about, so that Google can decide how and when to show them in the search results. The more consistent information you provide across your website, social platforms, etc., the easier it will be for Google to know what your business is about, and it is more likely to rank higher on Google.
3. Target landing page for SEO
Your landing page is where visitors to your site are introduced to your services, identify if your business is a good fit for their needs, and potentially book a call with you. This page is essential to qualify and convert good-fit prospects. By optimizing this page for SEO – meaning tweaking the messaging, including relevant keywords and other SEO best practices – there is a higher chance that people looking for your services will see this page.
4. Bonus: Powerlander
We've designed many landing pages, which resulted in 7-12% conversion rates for our clients. This is huge, as conversion rates are typically considered good at around 3%. Our strategy entails having a "Powerlander" on your website – where visitors are guided through clear steps on how they can work with you. The ultimate goal for a financial advisor like you is to book discovery calls. Clarity on how you can help qualified leads gives visitors a reason to take that step and book the call. Learn more about our conversion strategy – The Powerlander.
5. Reviews (SEC guidelines)
Social proof is a vital part of being seen as an authority online. How often do you go off reviews when looking for a new restaurant nearby? It confirms your credibility and serves to build trust with your audience. Luckily, the Securities & Exchange Commission (SEC) has widened the ability to use testimonials and endorsements for investment advisors. There are, however, some things to consider when implementing reviews for your business. Please look at our article about SEC's new regulations to use testimonials and make sure you comply with the latest Marketing Rule.
Need more help crafting a website that ranks and highlights your unique advisory service?
Find out if we are the right fit for your business. It all starts with a conversation.
Example of Effective Local SEO for Financial Advisors
As a result of following the above steps, we've achieved significant results for our clients. Here is one example of a client's website and how we ensured their business shows up in local searches.
Paradigm Wealth Partners
"Meta-description" includes their location.

Location headline added on home page.
Clear conversion strategy – unique discovery process.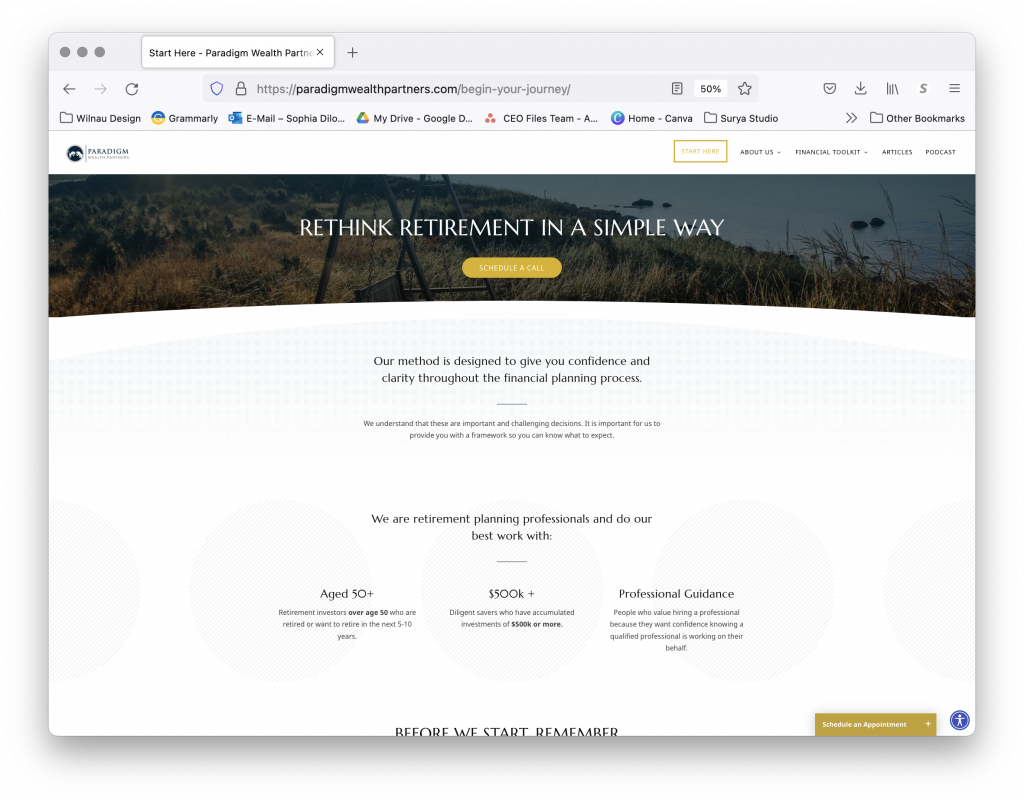 Conclusion
Local SEO can help bring interested prospects in your area to your business and it's easy to set up when following the steps mentioned in this article. The challenging part is to retain and convert visitors to your site. You can achieve great results when your brand and overall message on your website directly speaks to your desired clients and their pain points while having an effective conversion strategy, like the Powerlander.
We've built and designed websites for some of the most influential financial advisors in the U.S. and are curious to learn more about your advisory firm.
Contact us now to find out how we can help you reach your goals.