Getting clients for your financial business is easy. You just throw up a website and wait for them to come, right?
WRONG.
There are some very specific elements that MUST be strategically placed throughout your site. And if they're missing, you risk killing your conversion rates. Over the years, we've designed hundreds of websites for financial advisors and content creators.
Creating something that looks truly unique is a fun and rewarding process. Here are some of our favorite websites. Read on, and learn exactly why they work.
What The Wealth?!
Clean modern design with custom graphics and a personal message.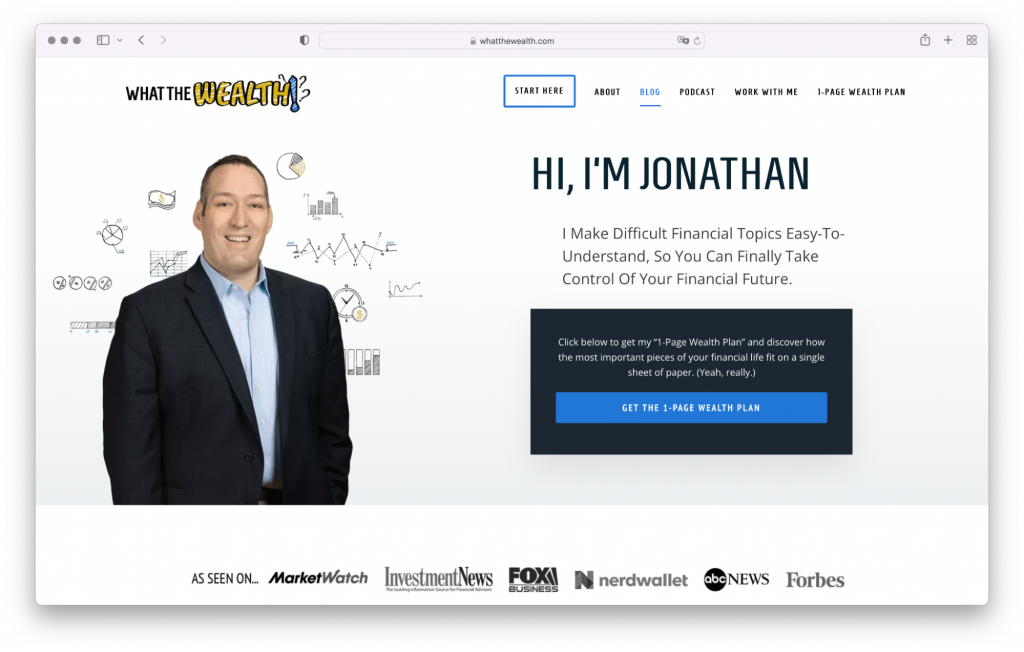 Jonathan Bednar started What The Wealth?! to publish relatable content, make a more significant impact and get more clients for his firm.
Why it works:
Stands out/differentiates from his competitors: The down-to-earth message and fun graphics look nothing like a traditional "advisor" website. What makes YOU different from your competitors? What's your own, personal value?
A unique style that connects with his ideal client (and no one else!): The copy on his site is explicit and conversational, speaking directly to Jonathan's ideal client. Does your site's copy speak to your target market and catch their attention? 
We take time to understand you and your business so we can craft a personalized Brand, Story, and Message that creates a connection and trust with ideal prospects by taking our clients through our Clone-A-Client™ process.
Retirement Starts Today Radio
The website for the "#1 retirement podcast on iTunes."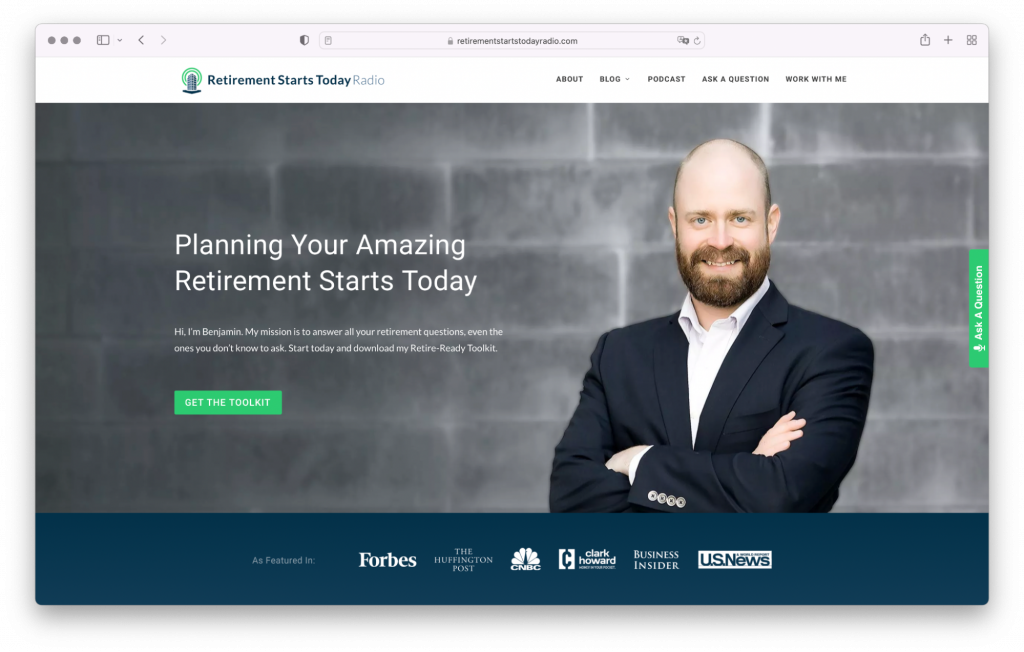 A great example of what a financial advisor podcast website should look like.
Why it works:
It makes it easy for visitors to find what they're looking for. People come to your website for a reason. Either they're looking for the solution to a problem or the answer to a question. Is your solution obvious and accessible to your audience?
It showcases the host's personality: Benjamin Brandt is the face of Retirement Starts Today Radio. And he makes it really clear on his site.
High converting lead magnet and a hub for all of his podcast episodes: Check out this case study we wrote on how podcasts can generate leads for your business.
Money Bloggers, we need you to spread financial literacy and independence! Make sure your content is seen online by taking control of your digital marketing. Not sure where to start? Click here for clarity.
Milestone AMG
Boutique financial planning firm with a clear message and unique process.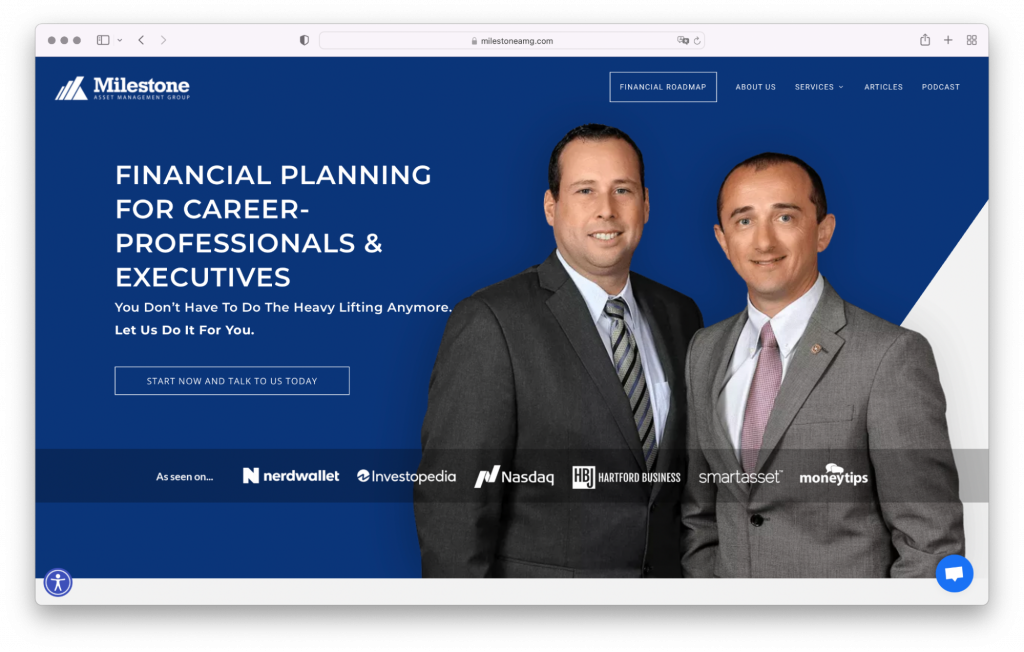 Milestone AMG proliferated quickly thanks to the hard work and 1-1 service they provide for their clients.
Why it works:
Specific communication: The message speaks directly (and only) to clients they want more of. If you want your ideal client to buy your product/service, talk to them clearly.
A Unique Discovery Process: "The Financial Milestone Roadmap," sets them apart and establishes expectations. Show your potential clients you have something unique for them.
A podcast landing page: With all the episodes of the firm's podcast, "The Fresh Perspective." Showing your work is a good idea if you want your client to know that you're the right solution for them.
Wealth Hacker Labs
A new project from the "OG" financial advisor blogger.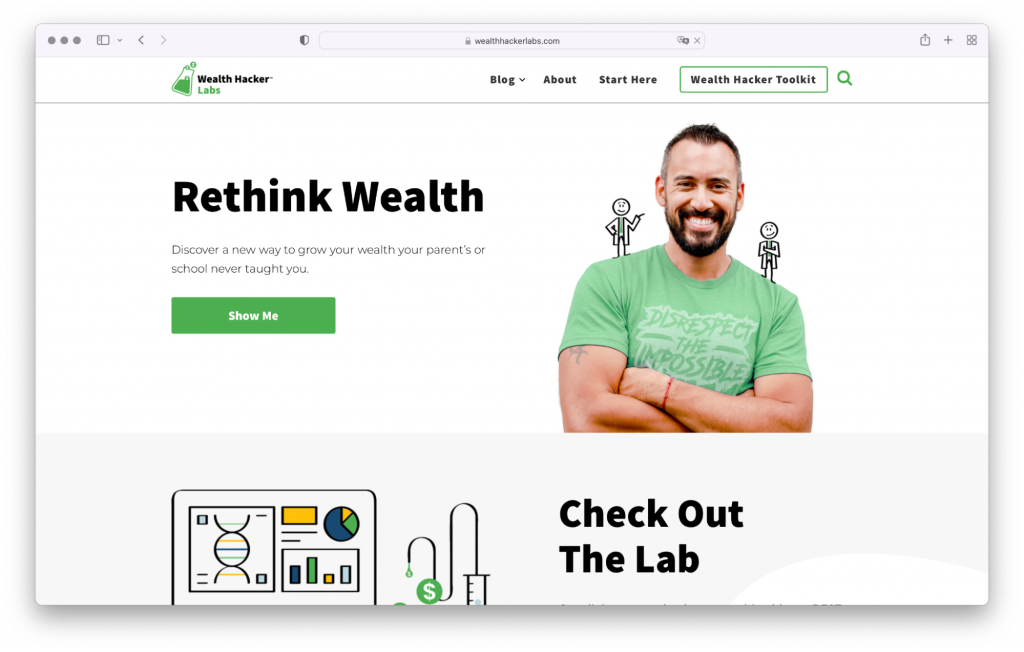 Jeff Rose originally started Good Financial Cents to bring leads into his financial planning firm. In the process, he created a massive brand and fell in love with blogging. Wealth Hacker Labs is where he shares what he learned.
Why it works:
The Sub-Brand Strategy: The design and custom graphics illustrate the "laboratory" where wealth hacking occurs. This method is excellent for building an audience in a creative niche while maintaining a professional brand for your firm.
Want to learn more about how we created Wealth Hacker Labs? Check out this case study.
Topturn Capital
Comprehensive financial planning for business owners in California.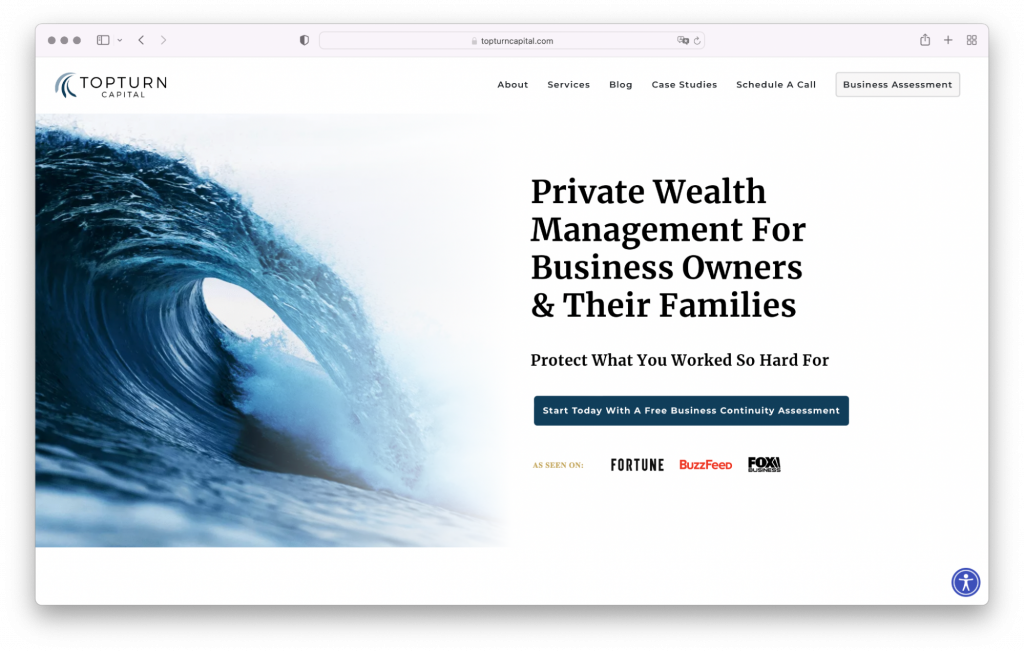 Why it works:
Client Targeting: This method helps you to get in front of the clients you want more of. It's clear immediately who Topturn is serving best: business owners and their families.
Client testimonials: Framing the firm as a small business helps build trust and relatability. Their actual success stories back up their claims and take advantage of the new SEC regulations.
Clone-A-Client™: A personalized marketing method that "clones" your best clients. We took Topturn Capital's team and their clients through this process to find what makes them stand out from the competition and reflect it on their website.
Brownlee Wealth Management
Niche targeting done right.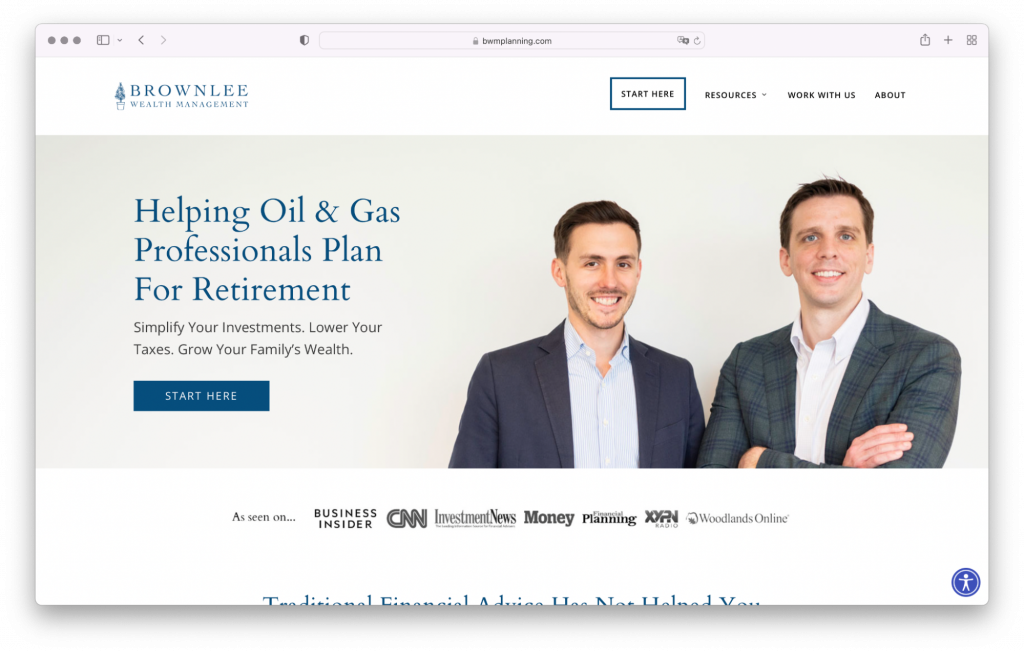 Brownlee Wealth Management focuses on helping employees of the Oil & Gas industry in Texas plan for retirement.
Why it works:
Easy to find and well organized: the elements and the copy on the site help the reader know what the firm does, who it does it for, and what to do next.
Niche targeting: their lead magnets are very niche specific, tailored to each company.
Targeted landing pages for each lead magnet make advertising much more effortless and produce impressive conversion rates up to 22%.
Valtinson Bruner Financial Planning
A financial firm with a clear and compelling value proposition.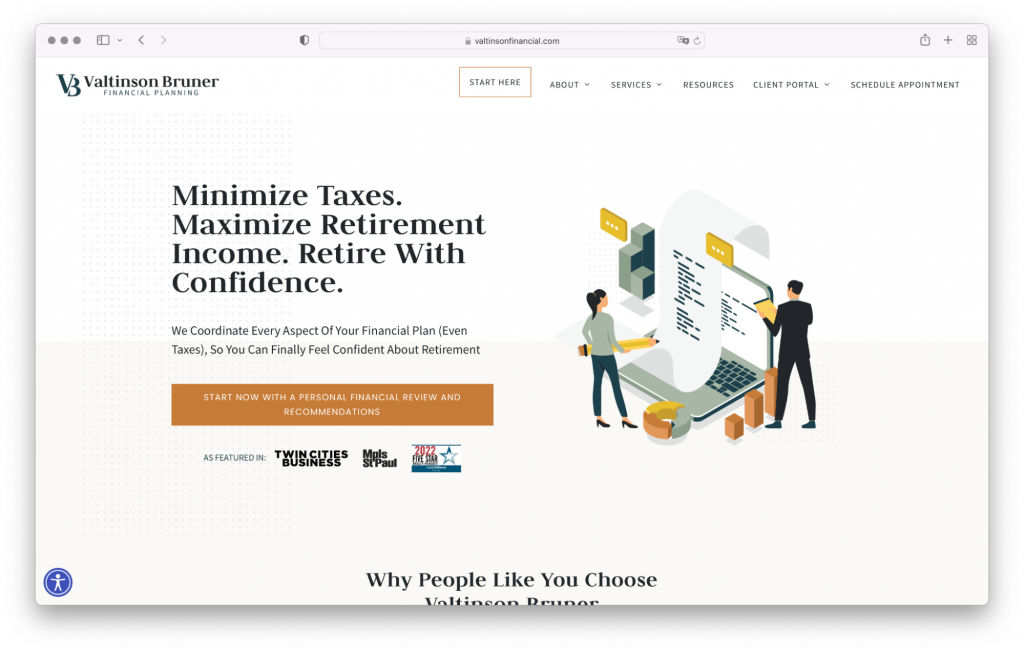 Valtinson Bruner specializes in financial and tax planning.
Why it works:
Did you know that 75% of users judge a company's credibility based on the quality of its website? (web credibility research from Stanford University).
Don't miss out on opportunities! Let us help you create a lasting impression through your financial advisor website. Contact us now to start your journey.
Provence Wealth Management Group
A sophisticated financial planning firm that offers "white glove" service.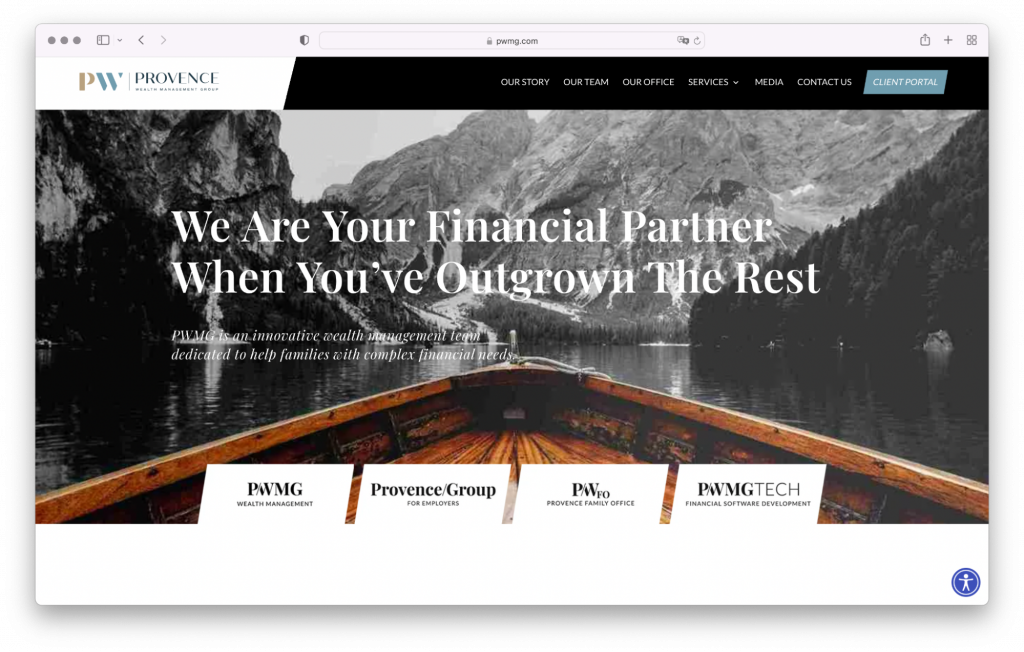 Why it works:
A compelling homepage: The headline on the homepage positions Provence Wealth Management Group's offer as a high-end service.
A unique style that targets their ideal client: The classy and elegant design compliments the message. With the black and white images, PWMG feels more "Ritz-Carlton" than "Wall Street", attracting high-level clients.
Which visuals can you use to complement your message and connect with your ideal client?
Financial Mentor
A content marketing platform for a former hedge fund manager.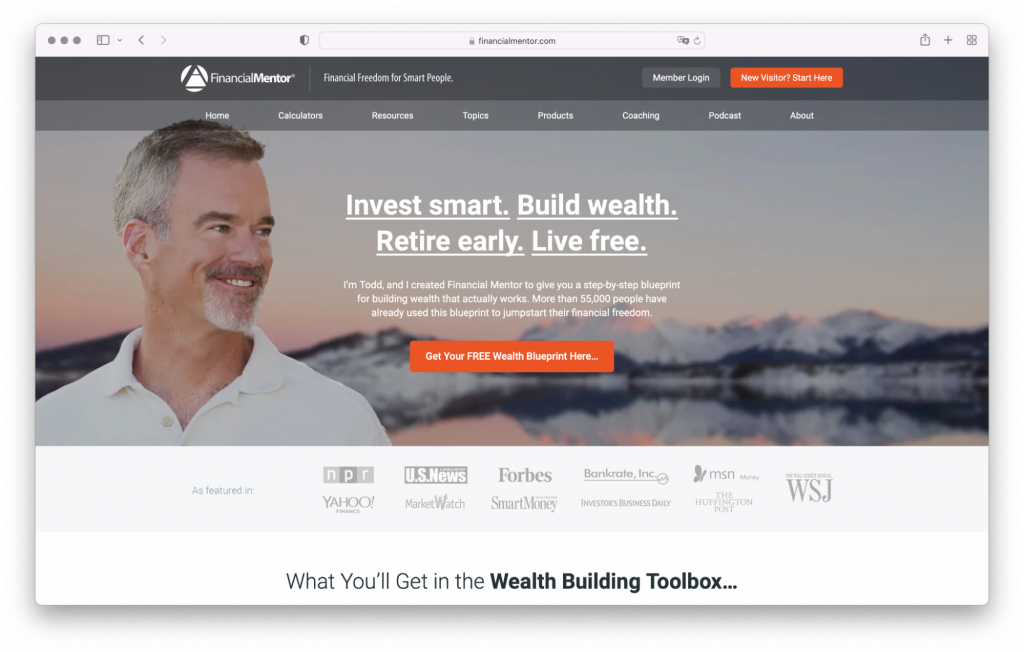 Why it works:
Storytelling: Financial Mentor appeals to DIY investors with content that leverages the deep experience and personal story of the founder. Which personal stories could you use to target your prospects?
Responsive website design makes it easy to dive into what would be an overwhelming amount of information. Graphics direct the reader's attention to important points and summarize sentences of text with a single image. An image says 1000 words!
Fairchild Capital
A financial planning firm with offices in Oregon and California.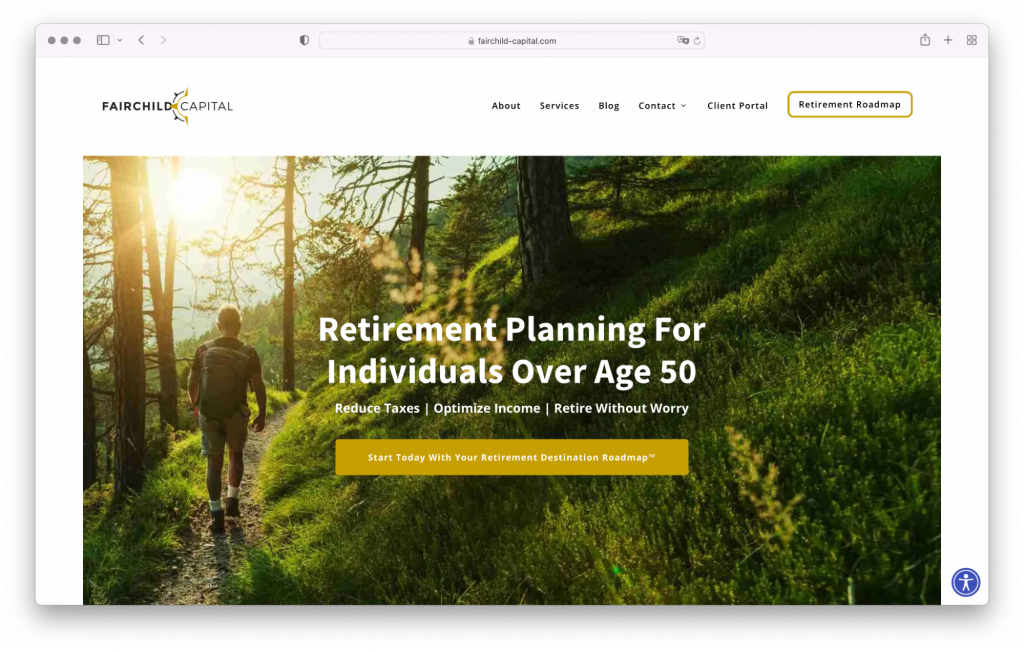 Fairchild Capital was founded by Todd Porterfield.
Why it works:
Personalized message and images: Todd grew up on a ranch and is an outdoorsman at heart. The text and visuals speak to people who value hard work and want an advisor they can relate to.
The roadmap graphic and unique discovery process reinforce this theme and make it easy to get started.
To sum up
If you want your website to stand out, you need to be clear on what its purpose is and what your goals are.
Many financial service providers come to us with expectations but lack clarity on what is possible for their website.
We help them get to the root of what their website can do for them. Things like attracting and converting new leads, creating a platform for their own content, or serving as their firm's online representation.
Once there's clarity around what you're trying to achieve, it's much easier to put together an actionable plan.
Need some help? Understanding you and your business is our #1 priority.
We have achieved astonishing results for our clients, including influential financial advisors and money bloggers.
We are here to help if you want unique branding, authoritative web design, and effective conversion strategies for your advisory business.
Find out if we are the creative agency for you.