"How can I stand out from other financial advisors?"
That's a question we get a lot.
There are many ways to do this, but the one we wanted to focus on today is something we learned from the founder of Good Financial Cents.
The Upside Down About Page And How It Works
Most About pages focus on the firm – their history, credentials, awards, and so on.
But people don't come to an About to learn about your business. They come to learn about what your business can do for them.
An Upside Down About Page begins by talking about the client instead.
It's "upside down" because you're putting the prospect and client first, not the firm first. Problems or desires they would consider important – that your business can solve.
When everyone is talking about themselves, putting prospects and clients first in your messaging can make a big difference in turning website traffic into leads.
Let's see how this works using our clients as an example.
Upside Down About Page Example – Milestone Asset Management Group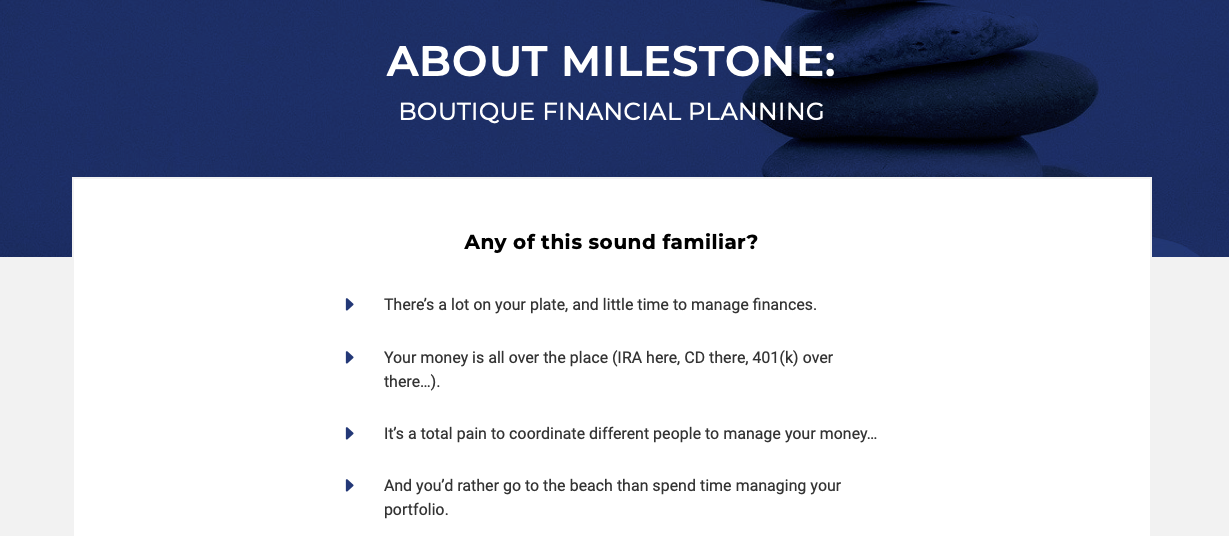 Take a peek at the picture above. There is no mention of their business or what they do. Instead, they ask a few questions their prospects can connect with.
In the second section, they reinforce much of what they covered in the first section while making it clear that they have the answers the prospect is looking for.
Between the two sections is a call to action to schedule a 15-minute intro call with a financial planner. You can read more about the key aspects of Milestone AMG's website in our recent case study.
Final Thoughts
Let's review. You're a financial planner, and you're looking for a way to stand out in a crowded market. One of the best ways to do this is with a strong About Page.
But this isn't just about tweaking what you've already got. You need to change how you think about things. Because the Upside Down About Page is about putting the prospect or client first.
It's hard to get your messaging right. If you want help, click here to visit our contact page and tell us about your project.