Adam Cmejla is the founder of Integrated Planning and Wealth Management, a successful financial planning firm that caters to optometry practice owners. His podcast, 20/20 Money, does a great job of driving traffic to his site. But with this success came a problem: He found himself spending way too much time on the phone with unqualified prospects. This was a massive time sink.
The Goal
Adam needed to improve his lead generation process and filter his prospects more aggressively. He wanted to attract committed and qualified prospects and slash the time spent on unproductive calls. But to do that, he knew he'd need an expert in his corner.
Challenges
Adam had worked with website builders before, but had found himself doing most of the work. His website builders had relied on him to be the architect of what they built.
This time, he didn't just want someone to "build a new site."
He wanted a digital marketing expert who could take charge of the entire process, from strategy to implementation, with minimal input from himself… and bring his vision to life. That's where we came in.
Approach
We started by working closely with Adam to understand his unique value proposition and target audience.
We then crafted a complete strategy to optimize his messaging, design a user-friendly website, and filter his leads so that unqualified prospects would self-select out before taking the time to book a call.
Wilnau Design took charge of the entire process. All Adam had to do was review the progress and give feedback.
Result
"This stuff actually works!"
IPWM successfully reduced the number of triage calls by 30%, while achieving a remarkable 48.08% improvement in qualified leads per month
IPWM's email subscriber list also doubled its opt-in rate
Organic search traffic increased by 5X
Website visitors also now spend about 740% more time on Adam's new site than on the old site — from an average of 10 seconds (before) to 1 minute 14 seconds (now)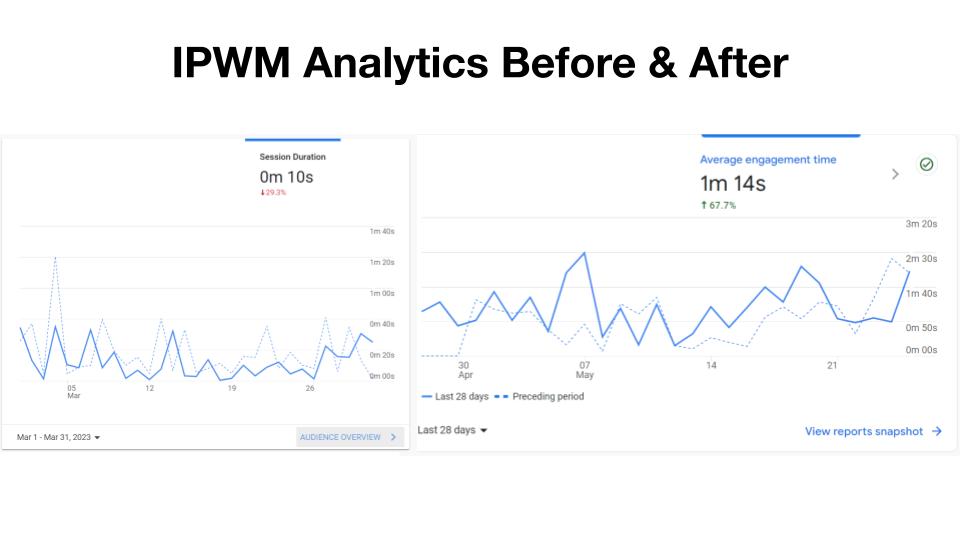 "As far as where the product is at right now, you guys' communication has been amazing. Response has been great. It's been really good. I appreciate you all, the entire team.

We've doubled daily sign-ups to our newsletter email list in the first month of the new site being live.

And I've had to remind myself, "Quality over Quantity," because I started to have a little like, oh, my gosh, I haven't been doing as many triage calls.

But new clients haven't gone down. We're right on pace.

The calls are better. It's worked perfectly.

We're spending way less time on the phone.

Which is great because the people that we're spending time with are the ones that are saying "Yes."

Adam Cmejla
Conclusion
In short, our collaboration with Adam successfully transformed IPWM's messaging, design, and lead qualification process to attract and engage the right prospects.
Like Adam said during our post-launch check-in call, "This stuff actually works!"
---
Need more help converting leads from your website & content?