It's an exciting time for investment advisor marketing with the new regulations from the U.S. Securities and Exchange Commission (SEC). While the update on using testimonials and endorsements is an excellent opportunity to showcase your credibility, value, and experience, it is essential to understand and comply with the entirety of SEC's new marketing rule not to disqualify you from using it for your advantage.
This article will go over the key aspects of the new marketing rule, how you can apply them to your advisory business, and give you some other ideas for emphasizing your authority online.
What is SEC's new Marketing Rule?
On December 20th, 2020, SEC finally announced some much-needed changes in the investment advisor advertisements regulations.
As the last updates of marketing regulations were written decades ago, it was necessary to adapt marketing strategies for advisors to the evolving technology, communication systems, and investor standards.
While the Commission had a final rule when announcing the changes, it considers public comments and concerns.
SEC has provided investment advisors with a transition period of 18 months after the effective date. This period gives bankers and firms the needed time to implement changes in their marketing strategy and allows the SEC to overlook the reality of these updates.
SEC's chairman, Jay Clayton, emphasizes that it is of utmost importance to consult with the Commission's expert staff when questions or difficulties arise to overhaul and alter the rules before the extended compliance period ends.
What are the Changes?
While the rule gives more freedom on how and when to use best marketing practices, it requires advisors to standardize certain parts of their promoting presentation to help investors evaluate and compare investment opportunities fairly and realistically.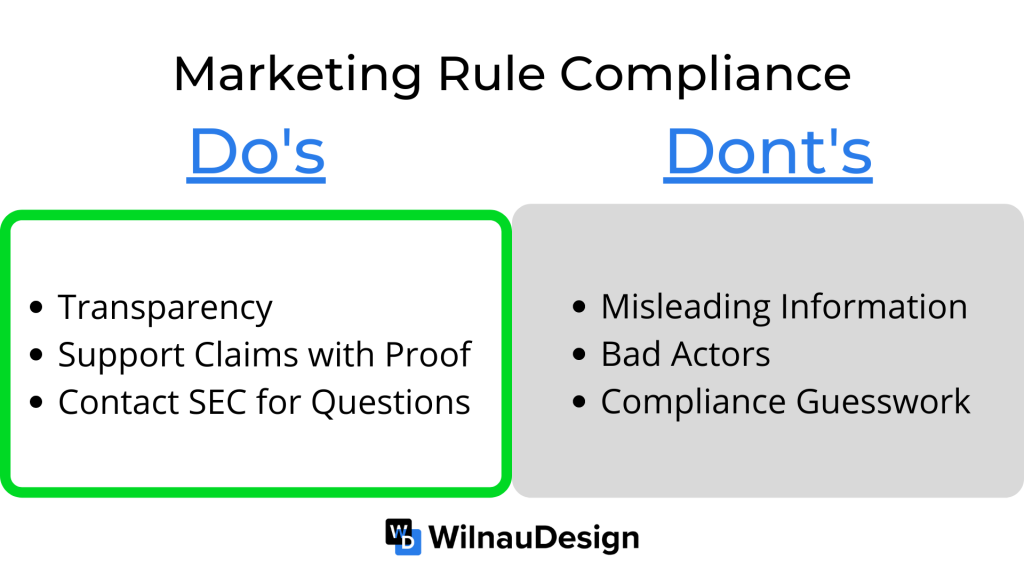 Using Testimonials and Endorsements
The amendments draw from and replace the current advertising and cash solicitation rules, Rule 206(4)-1 and Rule 206(4)-3. The most significant change is loosening restrictions on using client testimonials/endorsements for marketing purposes. Of course, there are limitations and regulations to avoid false claims and fraud that could mislead investors.
Here is an overview of what to include in your marketing when using testimonials/endorsements:
Clearly state who the testimonial is from in a disclosure. Is it a client or a promoter that has been compensated for their statement? Transparency serves to educate investors about potential conflict of interests of the person giving the testimonial.
Ensure that you or your team oversee the overall compliance of the marketing rule. To do this, you must understand what the final rule entails – and yes, that means reading the whole whopping 400+ pages of the document. You can find the download here.
If you compensate a promoter for an endorsement of over $1000 within 12 months (cash or non-cash equivalent value), you or your firm must have a written agreement with the promoter.
All performance information used for promotional purposes must be supported by proof.
Investment advisors may publish testimonials from an independent social media site. To present positive and negative commentary with equal prominence, they must be posted in a content-neutral manner, in chronological or alphabetical order.
To not be disqualified from taking advantage of this new rule, make sure to avoid these mistakes:
Getting endorsements from "bad actors," who claim false outcomes and mislead investors in favor of the advisor
Making any untrue statements
Stating results without proper proof
Presenting accurate material in a way that misleads investors
Only stating the benefits of an investment without mentioning the risks
Lacking overall transparency when offering and using performance results and information
These rules also apply for third-party ratings. Advisors must disclose how third-party rankings were prepared/ranked to comply with the marketing rule.
Planning & Implementation
The effective compliance date for SEC's new marketing rule is November 4th, 2022. The Commission has adopted a compliance date 18 months after the effective date to give advisors a transition period to comply with the amendments.
The Commission invites advisors and firms to contact its staff as questions arise in planning for implementation. You may send your questions by email to IM-Rules@sec.gov.
We advise you and your team to read over the entire final rule to make a thought-out implementation plan. The Commission put much thought into the details of this document to ensure it is bulletproof against fraud.
How to implement SEC's new Marketing Rule
Revise the final marketing rule with your firm or marketing team
Look at what you are doing now and how you could use this new rule.
Create an implementation plan, and get clarity on tasks to update your website, marketing material, and strategy.
Set deadlines for these changes and assign them to those taking responsibility.
If questions or concerns arise, send an email to IM-Rules@sec.gov.
To get an insight into how we helped one of our clients to use testimonials and endorsements in compliance with the marketing rule, visit Topturn Capital.
Other Ways To Stand Out As An Authority Online
Testimonials/endorsements from clients' successes are an easy and effective way to build authority online. But because the new marketing rule is new and relatively untested, it is also more challenging to navigate the preface, especially when marketing is not your specialty.
So, if you or your firm decide not to deal with the new regulations as of now, there are other ways to present yourself as an authority and build trust online!
We have worked with many financial advisors to build their brands to attract and convert ideal clientele online. Here are some proven marketing strategies you can implement now:
Overhaul and improve the messaging on your website and social media to reflect and connect with your ideal client
Include authority triggers like media mentions, branded content, and products/services to your website and content.
Walk the talk. Show your prospects what you have done for yourself that you now do for others. Walk them through your "hero's journey," which helps them realize what is possible for them while seeing you as an expert.
Be specific about your services.
Find your niche.
Know who and how you serve best.
Clarity will ultimately give you the tools to market your content to the best-suited prospects.
If you want to learn more about creating a brand online to leverage your authority, check out this case study about Valtinson Bruner Financial Planning Firm. Here you will dive deep into how we applied these concepts to build a successful brand.
Final Thoughts
The new marketing rule is a huge step forward for widening the opportunity for financial advisor marketing while ensuring investors' protection and avoiding fraud. Because this rule is still in its testing stage, you need to be careful in following all the instructions in the final rule precisely. If that seems too much of a task, there are other proven strategies to stand out as an authority online and convince your ideal client of your expertise and worth.
Above are just a few strategies you can start using now. They ultimately boil down to optimizing your website design and messaging to position yourself as an expert. If you need more help implementing a solid marketing strategy for your business, feel free to contact us now and tell us your project!