Are you looking to grow your business and get more leads online?
Most financial advisors are. And many of them realize that this means creating unique content that highlights their expertise.
And while it might seem exciting at first, after going at it for a while, most advisors come to see that it can be a bit of a drag – especially if they end up spending hours each day making content and don't see results after months have elapsed.
So, in this guide we're going to look at how you can use the Content Accelerator to make sure you're getting a return on the brilliant content you're working so hard to create.
Get Results That Put a Smile on Your Face with the Content Accelerator
What is the Content Accelerator? It's a proven strategy and step-by-step process for making content that ranks in search engines and turns visitors into leads.
There are a lot of mistakes that can be made in creating content, and you don't need to be a dunce to end up with an ineffective strategy. Even smart people run into this!
The Content Accelerator helps you get past all that. Plus, it fits your schedule and it's easy to start, which can help you escape the content hamster wheel. That's got to frost your onion!
Some of the strategies talked about here have been pulled directly from our A-list clients. We've combined this with what we've learned about content that ranks number one in Google and turns visitors into leads. It's the extra coat of wax that puts a brilliant shine on that machine.
An Overview of How the Content Accelerator Works – The Key to Success is "Intent"
The number one thing we need to be clear on when creating effective content is intent – in other words, what the user is looking for when searching for a specific keyword (and why).
And when a visitor lands on your website, we want to position your Unique Discovery Process or lead magnet as the next natural step. This will help you get way more leads.
Broadly, we know there's traffic coming to your website. They may have found your article, heard you on a podcast episode, saw your post on social media, or even came to your site from search.
If your content is good, people coming to your site will read more. If it's not relevant to them, or doesn't connect with them, they will leave.
We want to get your visitors to stay longer on your site and get hooked on your content. And the key to getting them to stay is intent. When the keyword they searched for matches up with the content you've created, they will keep reading.
And that's why we want to position your lead magnet as the next logical step on their journey. Getting them to download your lead magnet means you can follow up with them and turn them into customers.
The Content Accelerator Works When You Do This!
The Content Accelerator is essential to creating an effective content that gets momentum, saves time, and ultimately, grows your business.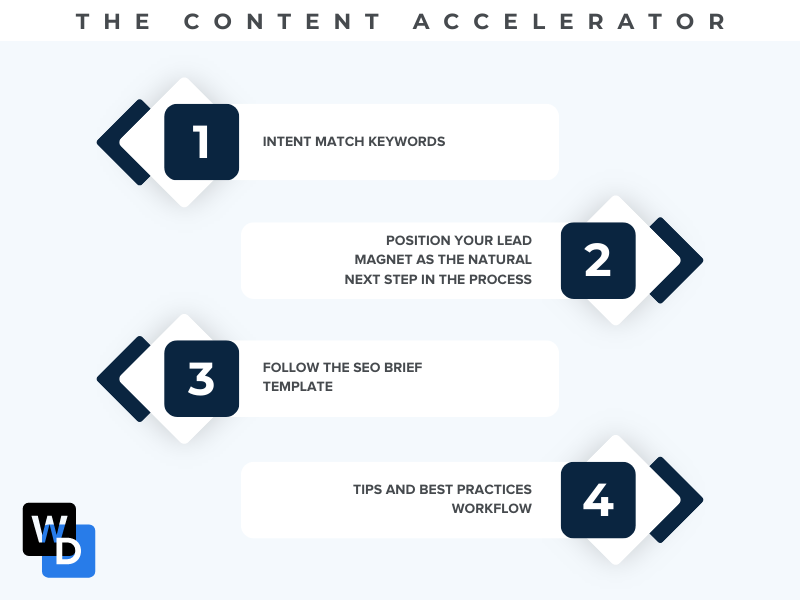 Here's how you can get results with your Content Accelerator:
Intent Match Keywords
When you start doing keyword research, it can feel like drinking from a firehose. There are just so many keyword opportunities, and for better or for worse, many of them won't do anything for you.
The good news is there are steps you can take to help you figure out what is best for you to create.
We usually set up our clients with a list of high-quality keywords to use for the next three to six months, so they're always clear on what to do next.
Position Your Lead Magnet as the Natural Next Step in the Process
Create precise, specific, calls to action, and put them in strategic locations on your website. You want your content to be a marketing asset. You want it to help you grow your business. Otherwise, it's not an asset. We've worked with many clients to build a Unique Discovery process and we offer a package specifically to help you set up your lead magnet.
After reading your content, your visitors should be convinced that the next thing they should do is grab your lead magnet. If they're hooked, they will!
Follow the SEO Brief Template
We create an SEO Brief Template that includes a list of the next action steps. All our clients need to do to be successful with content is follow the template. No fancy improvisation is needed! Then they will end up with content that ranks and turns visitors into leads.
Tips and Best Practices Workflow
We also set up our clients with the Tips and Best Practices Workflow to make sure they save time and avoid mistakes in creating content.
Example – Andrew Kerr
Andrew Kerr has a sitewide conversion rate of over 6%. That means that for every 100 people coming to his website, six of them became a lead. That's noteworthy because a conversion rate of over 1% is generally considered extraordinary. 6% is amazing. And because of this, his site usage increased too, take a look and Andrew's site FIbyREI.
We also have a site of our own that has a sitewide conversion rate of 7.5%.
Final Thoughts
Getting results from content creation can be hard. But the Content Accelerator takes the guesswork out of the process and makes it easy for you to get your machine firing on all cylinders.
The goal is to match up search intent (keyword) and the content you're creating. When you do this, visitors will stay longer on your site and are more likely to take next steps.
That's where your lead magnet comes in. So long as you position it as the natural next step, you can boost conversions on your website. And that creates a deeper well of leads you can draw from.
If you'd like to learn more about how we can help you grow your business, click here to visit our contact page and tell us about your project.